The Common Swift does not breed in the Arabian Peninsula (Cramp 1994), despite of this one can see the species in the UAE on migration. Care must be given to separate this species from the very common Pallid Swift. Over the last few years I have collected sightings from reliable observers.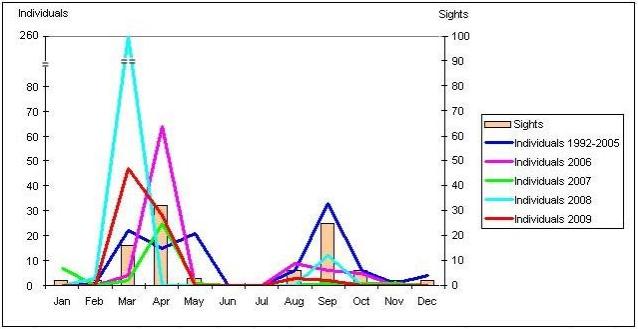 Fig 1: The graph shows the count of individuals as well as the number of observations. In April and September Common Swifts were most often recorded, while April and May saw the highest counts in the UAE.
On the graph one can see that the Common Swift is recorded in the UAE the whole year around, except the summer months June and July, when on a very low level. It is obvious that there are two periods of higher activities, one in February - May and one in August - October, while there are no records from June and July, and as expected very few in November - February. Since birdwatching occurs on a near-daily basis year round in the UAE, one can clearly see that the presence of Common Swift follows some structural seasonal pattern, while the rules are not very strict, with a higher presence in spring and autumn, as would be expected from a species on migration in the UAE.
The spring and autumn periods correspond with the two seasonal migration movements. The presence in November until Februar (with all together 17 birds from 8 sightings) seems to correspond with isolated reports from Europe (see the collection of "winter sightings" in http://www.commonswift.org/records_english.html) in the same months, than with the likelihood of overwintering here.
The low number of records also indicate that the Common Swift in general does not use the UAE as a migration route, and that it is in fact a scarce migrant in the country.
References
Cramp, Stanley (Ed.) (1994): Apus apus Swift. In Handbook of the Birds of Europe, the Middle East and North Africa: The Birds of the Western Palearctic, vol. 4. Oxford-New York, Oxford University Press
Appendix
Observations of the Common Swift (Apus apus) in the UAE
| | | | |
| --- | --- | --- | --- |
| Date | Count | Site | Emirate |
| | | | |
| 22.09.1992 | 1 | Al Wathba Prison Pools | Abu Dhabi |
| 26.08.1994 | 1 | Abu Dhabi; Bateen Wood | Abu Dhabi |
| 26.08.1994 | 5 | Al Wathba Camel Racetrack | Abu Dhabi |
| 01.09.1994 | 1 | Al Wathba Camel Racetrack | Abu Dhabi |
| 29.09.1994 | 20 | Jebel Hafit | Abu Dhabi |
| 30.09.1994 | 1 | Abu Dhabi Golf and Equestrian Club | Abu Dhabi |
| 13.10.1994 | 2 | Al Wathba Camel Racetrack | Abu Dhabi |
| 25.09.1997 | 1 | Khalidiyah | Abu Dhabi |
| 24.09.1999 | 1 | Al Wathba Camel Racetrack | Abu Dhabi |
| 06.11.1999 | 1 | Al Wathba Camel Racetrack | Abu Dhabi |
| 31.03.2000 | 3 | Al Wathba Camel Racetrack | Abu Dhabi |
| 14.04.2000 | 2 | Al Wathba Camel Racetrack | Abu Dhabi |
| 15.09.2000 | 1 | Al Wathba Camel Racetrack | Abu Dhabi |
| 12.04.2001 | 2 | Al Wathba Camel Racetrack | Abu Dhabi |
| 13.09.2001 | 1 | Qurrayah | Fujairah |
| 14.09.2001 | 3 | Wamm Farms | Fujairah |
| 19.10.2001 | 4 | Dubai Pivot Fields | Abu Dhabi |
| 05.04.2002 | 6 | Al Wathba Camel Racetrack | Abu Dhabi |
| 19.04.2002 | 1 | Al Wathba Camel Racetrack | Abu Dhabi |
| 19.04.2002 | 1 | Jebel Ali Hotel | Dubai |
| 27.12.2002 | 2 | Dubai Pivot Fields | Dubai |
| 25.03.2004 | 18 | Wadi al-Reum | Abu Dhabi |
| 26.03.2004 | 1 | Al Wathba Camel Racetrack | Abu Dhabi |
| 10.09.2004 | 1 | Al Wathba Camel Racetrack | Abu Dhabi |
| 12.09.2004 | 1 | Wimpey Pits | Dubai |
| 16.09.2004 | 1 | Al Wathba Camel Racetrack | Abu Dhabi |
| 04.12.2004 | 2 | Al Wathba Camel Racetrack | Abu Dhabi |
| 19.02.2005 | 1 | Dubai Pivot Fields | Dubai |
| 29.04.2005 | 3 | Dubai Pivot Fields | Dubai |
| 06.05.2005 | 20 | Wamm Farms | Fujairah |
| 12.05.2005 | 1 | Abu Dhabi; Eastern Lagoon | Abu Dhabi |
| 14.03.2006 | 1 | Abu Dhabi Golf and Equestrian Club | Abu Dhabi |
| 17.03.2006 | 1 | Abu Dhabi Golf and Equestrian Club | Abu Dhabi |
| 18.03.2006 | 1 | Abu Dhabi Golf and Equestrian Club | Abu Dhabi |
| 31.03.2006 | 1 | Al Wathba Lake | Abu Dhabi |
| 08.04.2006 | 26 | Abu Dhabi; Eastern Lagoon | Abu Dhabi |
| 10.04.2006 | 6 | Al Warsan Water Treatment Plant | Dubai |
| 10.04.2006 | 5 | Dubai Pivot Fields | Dubai |
| 13.04.2006 | 1 | Wasit Nature Reserve | Sharjah |
| 16.04.2006 | 2 | Abu Dhabi Golf and Equestrian Club | Abu Dhabi |
| 19.04.2006 | 1 | Dubai Pivot Fields | Dubai |
| 20.04.2006 | 1 | Wasit Nature Reserve | Sharjah |
| 21.04.2006 | 2 | Hamraniyah Fields | Ra's al-Khaimah |
| 21.04.2006 | 6 | Masafi Wadi | Fujairah |
| 21.04.2006 | 2 | Wamm Farms | Fujairah |
| 27.04.2006 | 2 | Safa Park | Dubai |
| 30.04.2006 | 10 | The Montgomerie; Emirates Hills golf course | Dubai |
| 21.08.2006 | 3 | Wamm Farms | Fujairah |
| 23.08.2006 | 6 | Dubai Pivot Fields | Dubai |
| 02.09.2006 | 2 | Dubai Pivot Fields | Dubai |
| 15.09.2006 | 3 | Wamm Farms | Fujairah |
| 26.09.2006 | 1 | Wamm Farms | Fujairah |
| 05.10.2006 | 1 | Wamm Farms | Fujairah |
| 06.10.2006 | 1 | Dubai Pivot Fields | Dubai |
| 07.10.2006 | 3 | Wamm Farms | Fujairah |
| 02.01.2007 | 6 | Qurrayah | Fujairah |
| 05.01.2007 | 1 | Palm Sports Resort | Abu Dhabi |
| 25.03.2007 | 1 | Dubai Creek Park | Dubai |
| 25.03.2007 | 1 | Dubai; Umm Suqeim | Dubai |
| 14.04.2007 | 2 | Al Warsan Lakes | Dubai |
| 14.04.2007 | 5 | Safa Park | Dubai |
| 19.04.2007 | 2 | Al Mamzar Park | Dubai |
| 19.04.2007 | 1 | Dubai Creek Park | Dubai |
| 20.04.2007 | 6 | Dubai Pivot Fields | Dubai |
| 22.04.2007 | 3 | Al Mamzar Park | Dubai |
| 23.04.2007 | 3 | Al Mamzar Park | Dubai |
| 25.04.2007 | 3 | Al Mamzar Park | Dubai |
| 14.05.2007 | 1 | Sharjah Rubbish Tip | Sharjah |
| 27.09.2007 | 1 | Dubai Pivot Fields | Dubai |
| 03.10.2007 | 1 | Dubai; The Lakes | Dubai |
| 21.11.2007 | 1 | Palm Sports Resort | Abu Dhabi |
| 29.02.2008 | 3 | Ain al-Fayda | Abu Dhabi |
| 07.03.2008 | 10 | Ain al-Fayda | Abu Dhabi |
| 23.03.2008 | 250 | Al Wathba Lake | Abu Dhabi |
| 23.03.2008 | 1 | Dubai Pivot Fields | Dubai |
| 05.09.2008 | 2 | Green Mubazzarah | Abu Dhabi |
| 05.09.2008 | 3 | Wamm Farms | Fujairah |
| 11.09.2008 | 1 | Abu Dhabi Golf and Equestrian Club | Abu Dhabi |
| 12.09.2008 | 2 | Wamm Farms | Fujairah |
| 16.09.2008 | 1 | Al Wathba Lake | Abu Dhabi |
| 19.09.2008 | 1 | Wamm Farms | Fujairah |
| 26.09.2008 | 2 | Wamm Farms | Fujairah |
| 27.03.2009 | 20 | Hamraniyah Fields | Ra's al-Khaimah |
| 27.03.2009 | 10 | Khatt | Ra's al-Khaimah |
| 29.03.2009 | 14 | Green Mubazzarah | Abu Dhabi |
| 31.03.2009 | 3 | Hamraniyah Fields | Ra's al-Khaimah |
| 04.04.2009 | 2 | Abu Dhabi - Mirfa Road | Abu Dhabi |
| 04.04.2009 | 1 | Sila'a Peninsula | Abu Dhabi |
| 05.04.2009 | 2 | Sila'a Peninsula | Abu Dhabi |
| 06.04.2009 | 3 | Ghiyathi - Liwa Oasis Road | Abu Dhabi |
| 18.04.2009 | 10 | Dubai Pivot Fields | Dubai |
| 19.04.2009 | 10 | Dubai Pivot Fields | Dubai |
| 04.08.2009 | 1 | Dabb'iya Peninsula | Abu Dhabi |
| 22.08.2009 | 2 | Wamm Farms | Fujairah |
| 04.09.2009 | 1 | Wamm Farms | Fujairah |
| 11.09.2009 | 1 | Green Mubazzarah | Abu Dhabi |
Table 1: Recorded observations of the Common Swift in the UAE