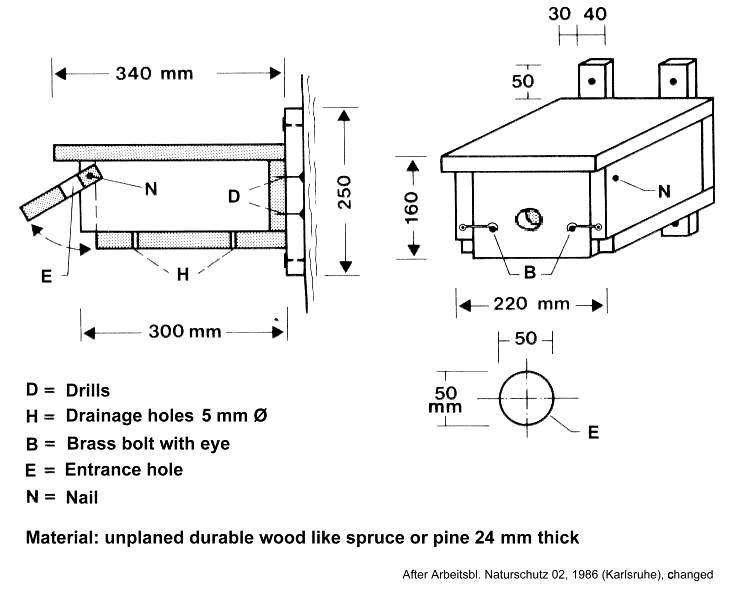 Common Swifts usually look for nest places in the places where their experience tells them nest sites might already exist, e.g. in the boxes of Venetian blinds, under gutters or in the gaps between wall slabs. It is clearly useful to exploit this tendency and install new nest boxes in places they are naturally inclined to use. However, Swifts can and do detect new nesting possibilities in untypical sites.
| | |
| --- | --- |
| | |
| A nesting place in the box of a Venetian blind in Tel Aviv, Israel, about 5m above ground level. | A nesting place under the gutter of a bay window in Potsdam, Germany, about 5m above ground level. |
One can install nest boxes, or prepare nest holes from about 3m high upwards. In Paris, France, Common Swifts breed in a hole about 70m high in the 26th floor of a tower block. The direction the nest faces is not of much importance. Take care to maintain ample free space in front of the entry hole of the nest box so that the Swifts can enter the hole in direct flight.
Photographer Daničle Monier

A nesting place in a tower block in Paris, France, situated between the 25th and 26th floors, at about 70m above ground level.

Please see also:
http://www.pz.nl/gierzwaluw/ click on "Nestkasten" (in Dutch)
http://website.lineone.net/~edwardmayer/Nestboxes&Attraction.htm (in English)
http://www.martingrund.de/apus/haus01.htm ( in German)

For further informations please see:
http://www.commonswift.org/colonies_english.html
http://www.commonswift.org/things_to_buy.html
http://www.martingrund.de/apus/haus01.htm
http://www.mauersegler.klausroggel.de/frame-erfolg.htm
http://website.lineone.net/~edwardmayer/MakingHomesForSwifts.htm